Give Hybrid Workers the Best User Experience
Workers demand seamless experiences and best-of-breed tech
Whether workers are on-premises or remote, organizations today must think differently to ensure they're optimally provisioned, connected, secured, and trained.
Speak with a specialist
Work is no longer a place we go, it's something we do. The office is no longer a requirement, it's an option. Your users no longer have one single experience with technology, they have hundreds.
The future of hybrid work requires IT leaders to rethink the end-user experience. Each experience brings with it new requirements, and if IT teams are going to succeed in delivering these new experiences in hybrid working environments, they'll need to think differently. They must find new ways of delivering services as they continue to experience global supply chain disruptions and new ways of deploying devices to decentralized workers. New methods must be put in place to connect employees to organizational networks, as well as training them, keeping them secure, and ensuring their productivity.
Sustaining the Best End-User Experiences for Your Hybrid Workers
SHI can help you support remote and hybrid working models in a way that allows you to thrive in a world of hybrid everything. We can deliver a consistent experience across multiple device types and reduce the overhead of provisioning equipment by using the latest technologies to deliver a modern desktop experience.
Overcoming the Device Shortage
Delivering the desktop and apps remotely can reduce demand on the device itself, making it a viable option for older devices that might struggle to run the latest OS and applications locally. And, with the rollout of Windows 11, you can avoid the hardware requirements for the new OS by leveraging virtualization. This means organizations running Windows on a virtual desktop using VDI technology or via Desktop as a Service can install or upgrade to Windows 11, even on an older device.
Modern Desktop Solutions
The global chip shortage coupled with the lockdown-driven production challenges has made it increasingly difficult for organizations to get their hands on the hardware devices their employees need. SHI's modern desktop solution is helping organizations extend hardware life so users can remain productive as long as supply issues persist.
A Smarter Way to Manage Your End-User Devices
With some staff rarely in the same location as IT support teams, getting the right device in the right hands at the right time requires a new approach. With SHI's lifecycle management services, coupled with new device deployment models like Zero Touch X, you can unlock cost-savings by streamlining your acquisition, deployment, support, and recovery processes.
Lifecycle Services
Allow your end users to pursue more long-term, strategic initiatives by effectively managing your hardware lifecycle – from procurement and acquisition through deployment support, ongoing maintenance support, to end-of-life support, and asset recovery.
Zero Touch X
SHI's Zero Touch X Deployment Solutions are an essential part of supporting remote workers and allowing them to maximize their productivity. Beyond allowing IT to automatically ship and configure entire fleets of smart devices, it also ensures operating systems and software are kept secure and up-to-date via over-the-air provisioning (OTAP) that works across all OEMs and most major platforms.
SHI Mobile
Your globally distributed workforce requires consistent connectivity. SHI Mobile offers an unlimited LTE data plan that keeps them connected wherever they are. Using a single SIM or eSIM, it uses innovative technology to automatically - and securely - connect any LTE-enabled device to the strongest signal. Manage your entire device fleet via a single contract, and within a single platform.
Drive Adoption and Consumption
By properly training staff on newly deployed technology, organizations can maximize productivity, engagement, adoption, and consumption. Ultimately, a robust professional training program centered around current and emerging hybrid technologies increases employee productivity, safeguards HR retention efforts and promotes overall end-user satisfaction.
Training and Adoption Services
Backed by over 30 years of experience training for organizations from Fortune 500 enterprises to SMBs, SHI's end-user, professional, and technical training services are tailored to your organization's unique training needs.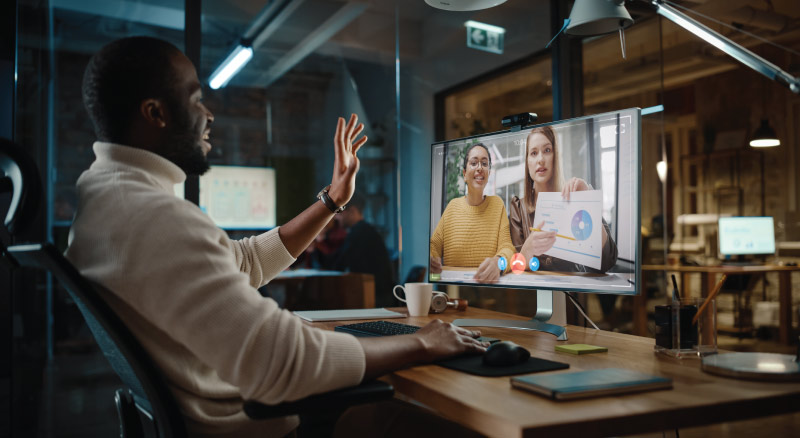 Why Collaborate with SHI?
As an industry leader in empowering the modern workplace, SHI has helped organizations adapt to hybrid working models, supporting both remote and on-premises employees. Our transformational capabilities range from modern desktop solutions, Zero Touch X deployment, and robust professional development curriculums. We help customers recognize the full value of their hybrid work investment, while enabling the best end-user experiences no matter their location or preferred device.
SHI will help you transform your hybrid workforce – providing consistency across multiple device types, reducing the overhead of provisioning, optimizing collaboration platforms, and leveraging best-of-breed technologies to deliver a modern desktop experience.
SHI Strategic Partners - Enduser Computing & Collaboration
Book an appointment with an SHI solutions expert and find out how SHI delivers an optimal end-user experience to your hybrid workforce
Contact us today!