Cybersecurity Solutions for a Hybrid Everything World
Maximizing your security posture through modernization and consolidation
The threat landscape is more complex than ever before – which puts increasingly distributed organizations and their hybrid workforces at greater risk.
Speak with a specialist
The way people interact, work, and process information is undergoing permanent change. We've entered a new era of hybrid everything, of expanded remote workforces and accelerated digital transformations.
For all the opportunities hybrid everything offers today's businesses, it also fuels an increasingly sophisticated and complex threat landscape. As organizations continue to pivot toward supporting remote workers, they are under growing pressure to bolster their defenses against new cyber threats targeting these hybrid workers and their virtual workspaces.
As organizations become more disrupted and distributed, IT teams must ensure that cybersecurity is baked into all aspects of their 'hybrid everything' IT models. SHI and Stratascale have a wealth of business consultants, research analysts, technology engineers, and managed services teams. Their focus is a simple one: help our customers by creating the cybersecurity programs, enterprise security architectures, and security operations models that offer the flexibility and agility to support their rapidly changing digital enterprise.
Responding to Hybrid Threats in a Hybrid Everything World
Hybrid working and hybrid architectures have introduced new threats, and new challenges for cybersecurity professionals. Ensuring that your end-user environments are secure whether they are working in the office, at home, or from a co-working hub or their favorite café adds complexity.
SHI's cybersecurity specialists can help your organization stay ahead of this fast-evolving threat landscape. We'll work with you to assess your current security program, and build an action plan to address any identified gaps.
Business and Cyber Risk Management for Hybrid Computing
SHI's Stratscale division takes a consulting approach that combines best-of-breed technology solutions and innovating testing capabilities for enterprise organizations. Whether you want to mature your overall hybrid security posture, maintain compliance aligned with tightening regulations or reduce your overall threat landscape — we base our solutions on current industry frameworks. We benchmark your current cybersecurity posture and create an actionable roadmap to address growing hybrid cybersecurity threats.
Developing a Hybrid Security Program Strategy
Faced with resource constraints, escalating threats and complex hybrid IT estates, organizations could struggle with protecting their data while strategically aligning their overall cybersecurity and business goals.
Learn how SHI helps you succeed with balancing the business and hybrid cybersecurity needs for your organization, learn more
book a call with a SHI solutions expert now to
Hybrid Security Stack Consolidation
Developing a cybersecurity strategy able to support a world of hybrid everything starts with your architecture. We can help you understand which tools you have in place, eliminate the bloat, evaluate your current exposure and effectiveness, and integrate appropriate security solutions.
Optimizing your Hybrid Security Stack
Bringing together your data center, cloud, and end-user environments to strengthen your hybrid security architecture and streamline your security tools.
Learn how SHI helps you succeed with organizational-wide hybrid cybersecurity architecture, learn more
book a call with a SHI solutions expert to
SecOps for Hybrid Architectures
Defending against threats such as phishing, malware and ransomware has become more challenging as businesses adapt to hybrid everything. As organizations have an average of 45 tools in their cybersecurity stack, SHI and Stratascale's DevSec Ops teams are ready to help customers contain vendor sprawl and streamline security tools. Our experts can help security teams streamline operational overhead by establishing a solid foundation of tightly integrated controls for more effective threat detection and response across their hybrid workforce.
SecOps for Hybrid Architectures
Security operation teams often experience constant chaos in the effort to secure remote workers. Consistently addressing cybersecurity threats in a world where understaffing and cybersecurity skill gaps put pressure on teams can be the norm instead of the exception.
Streamline your security operations and rationalize your security tools with an SHI and Stratascale, learn more
book a call with a SHI solutions expert to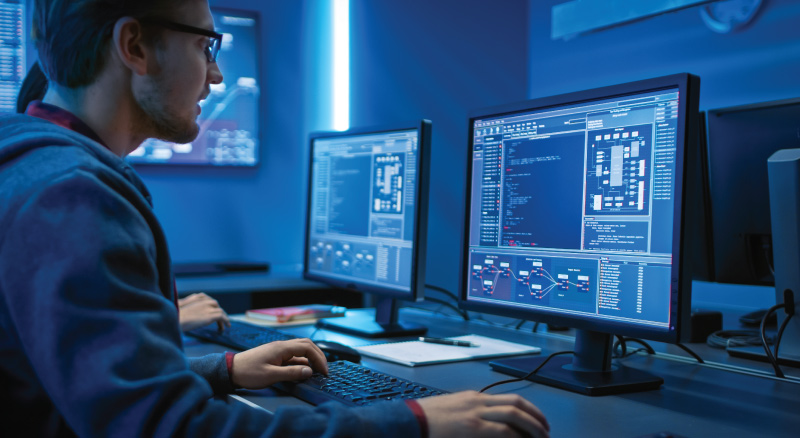 Why Collaborate with SHI?
The right partner makes all the difference.
SHI's Stratascale division brings a consultancy first approach to helping organizations rapidly adopt hybrid everything environments through technology innovation. We call this digital agility. Stratascale's researchers, technical advisors, consultants, and field service professionals seamlessly integrate with SHI's world-class procurement, implementation, and managed services capabilities, giving customers access to a truly integrated end-to-end partner for enabling their hybrid everything transformative journey.
SHI Strategic Partners - Cybersecurity
Book an appointment with an SHI solutions expert and find out how SHI bridges the gap between your hybrid cybersecurity efforts and a rapidly evolving threat landscape
Contact us today!